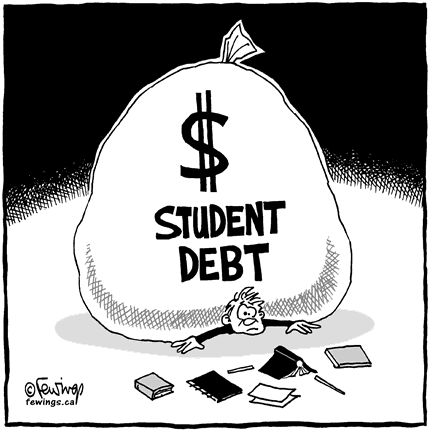 Recently, the Department of Education decided to do away with the subsidized portion of loans for graduate students. This news hit me like a ton of bricks, and I had to find out what other options were available to me. Would I need additional funding? Would I qualify for a grant or perhaps a scholarship? Unfortunately, grants are not an option for graduate students and the fewscholarships I found, were past the due date to apply. So back to sqaure one!
I have had friends tell me, "Oh just drop out and continue again once you can afford it, it isn't worth putting your family in debt". Luckily, I have a husband who prefers his wife to have her MBA and being in debt than to not have it and be in debt anyway! :-)
I have decided to dish out the extra money that the loans are not covering for two reasons;
Reason one: I have been in school for going on 4 years once I graduate with my MBA in June of 2013. I consider that to be an amazing accomplishment being that the normal college student getting their Bachelor's degree is in school for 4 years (thank you accelerated program!). While in school for my Bachelor's I was working a fulltime job, raising a toddler and going through a deployment. Lack of funds is not going to keep me from my goal! I promised myself on graduation day last October that Iwould keep on going until I reached where I wanted to be, my MBA.
Reason two: Yes it is costing quite of bit of money, but the example I am setting for my children makes it all worth while. I want them to see mommy excel and show them that if you set your mind to something, You can make it happen!
I love being a college student, but am looking forward to being COMPLETELY done with it all in June. What's next for me? Maybe a P.H.D? Only time can tell... 
Hooah!
Angela
Categories: Going Back to School