It is a beautiful morning as I look out of the window of my office space. We have lived here for 2 years already and this has to be my favorite part of the house. A room that is for me and me only. Minus the small play area in the corner for my daughter, my office space is put together nicely, everything is always organized and in its place. This is the only way I can get work done.
My name is Angela Caban, and I work from home.
Why do I work from home?
I have been given the amazing opportunity to not only write for a living, but also run my own consulting business from my home. This also makes me a partial stay at mom -  my daughter is not in school yet (she is 18 months), my son goes to school full time (second grade.) So on top of working from home, I also need to stay on top of things here at home with the kids.It can be hard at times - but I think that is the easiest part for me.
My home has never been cleaner – which is odd for me being the very organized and clean person I am. My home is never cluttered, there are never clothes waiting to be washed in the hamper, and you will never find a plate in my sink – I am one that takes pride in keeping a clean home as well as making sure that if there are any unexpected visitors, I have nothing to fear and nothing to worry. I blame this on my OCD - not diagnosed formally, but a diagnosis from my family and husband, my whole life. 
I often describe working from home as a blessing in disguise. I do manage to get work done, however I always find myself stressed about "clocking out" in time to get my househld duties finished. (I am my own worse enemy when it comes to getting work done...)
When thoughts get in the way...
I have always been a very productive person - I don't know the meaning of procrastination. And no, I do not in anyway suffer from ADD. So why do I have trouble focusing on my work sometimes? I blame it on the work from home curse...
It seems that the downstairs wood floors sometimes get more attention than the computer upstairs with a list of items to tackle each day. Because at this point I am polishing them until I can see my reflection. Working from home comes with set of distractions that many don't realize, I know I didn't.
#1: The telephone - Why is it that I find the need to pick up the phone each time it rings. If I am working I forget that technically "I am not home", therefore I should no be obligated to answer any non-work related calls.
#2: The television - The television is a great love of mine, but if something good is on - I will get sucked in. So to avoid this, no television in the office and no t.v. time during working hours. Case closed.
#3: People - This is my biggest distraction. And not because I make it one, but mainly because people think you are home, therefore you are not doing anything. I have had to explain numerous times to the same people that just because I work from home DOES NOT mean that I have the time to step away from my office. Respect my working hours, please.
#4: I am never off - I work for myself, therefore unless I totally unplug myself - I feel like I am always on the clock. Being my own boss is a challenge, I am hard on myself and never let up. Let me know if anyone has tips to stand up to the boss? hehehe...
#5: OCD - Well like I mentioned above, I have a serious cleaning problem. I can't work when the house is messy, and since the house is NEVER messy (I take pride in that), I always find something to do. I am working on my cleaning issues, I promise.
So regardless of the challenges I face on a daily basis, I enjoy working from home - I get to do what I love and get paid for it, sweet! 
This is my home office, complete with a play area for Leah...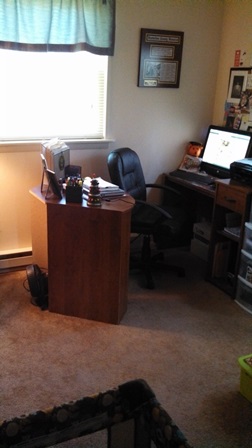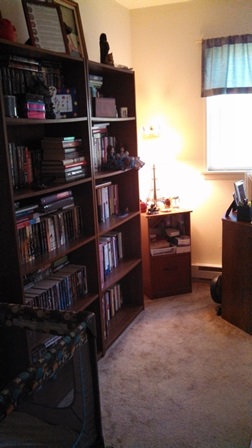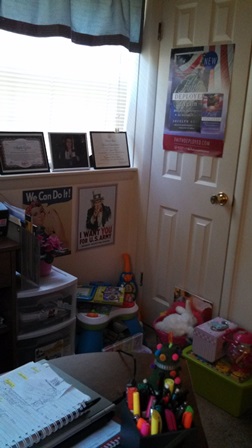 Categories: Working from Home