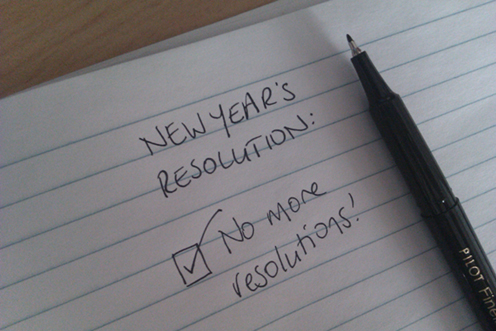 Why do we anxiously await the arrival of a New Year? Is it in hopes of starting over, a fresh start to keep us looking forward to something in the New Year? That's fine. But have you ever thought about why you are making a resolution in the first place? Many want to better themselves or perhaps prove a point that they can change and do better. The start of a New Year does not have to be your starting point.
Have you ever thought about time and what it represents? A clock measures time. No matter what day it is in the year, time will keep moving, time will pass. Why wait for the New Year? You can change any day, any hour and any minute. Time is what you make of it. I am in no way knocking those who want to change and make resolutions, I am just opening up the thought that the pressure we put on ourselves is not necessary. You can change at any time.
The fact is no accomplishment in life will ever be enough to fulfill our constant pursuit of happiness. We might enjoy reaching the pinnacle, but after the thrill subsides, we're back where we started, wondering what to cross off the list next.
So, resolve not to make any New Year's Resolutions. Instead, let us change our perception from a negative to a positive. We need to find our own delicate balance about ridding ourselves of stress and pressure. We all have our own method. The key is motivation here and now not tomorrow. Make it easy; cut the shackles that bind us to doubt, negativity and perfection.
Establish a balance between giving and receiving - physically, emotionally, intellectually and spiritually. No more lists, guilt driven promises to change, or over-thinking the obvious. Simply, see yourself as happy and new. Begin with this beautiful visual affirmation of yourself. You are continuously being reborn to new possibilities - not just once a year.
Categories: Working Mama Life