Death is inevitable. Yet why is it that the loss of someone you love always showers us with a range of emotions? We may desperately try to avoid the pain with these emotions clouding over us. Clinging to what comforts us the most, feeling like we have no other choice but to accept that this is life and that we are grateful for the opportunity God has given to have loved in such a large capacity. Other days we have anxiety and feelings of helplessness hanging over us, feeling angry and not wanting to remember those good times you once had. They bring pain, a pain so great that you literally lose your breath. Your stomach is in pain and you wonder to yourself, "What are they feeling? Where are they and do they feel the same emptiness I do?" – you simply can't imagine living without them, they have been a part of you since day one.
Despite the range of emotions we feel, grieving for a loved one helps us cope and heal. The intense, heart-breaking anguish that we feel indicates that a deep connection has been severed. Possibly one of the most painful emotions we will ever experience, yet necessary.
In September of 2013 I lost my maternal grandmother. A very short five months later, I lost my paternal grandfather. This left me feeling as if I no longer had any structure in my life. How did losing two of the most important people of my life mean I had any sense of anything? I had also never experienced any loss prior to this. When I was 6, my mother lost her father, my grandfather. Not that I don't count this loss, I remember him very much, however I did not process this loss in the way I recently had to. I had 30 years of my grandmother and grandfather, not one moment of my life did I live without them there, not one moment. Imagine my surprise when I realized that being an adult means losing so much and just having to deal with it, that it is a part of getting older.
I write this with a knot in my throat and an ache in my heart. I most likely will always have that feeling of emptiness. I will look at my children and continue to tell them the stories of my wonderful life, how united my family always was and remind them how much they were loved.
You feel guilty for moving on, but my children require that of me. Going forward doesn't mean forgetting about the loved ones that have died. Enjoying life again doesn't imply that the person is no longer missed. Piecing together your shattered emotions doesn't mean you your loved one. It simply means that your grief has run its course.
Has my grief run its course? Not yet. With continued prayer and guidance, I know my heart will heal.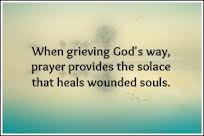 Categories: Working Mama Life, Faith