Why do we tend to get sucked into the drama and negative things in life? I am certain everyone has made the comment, "Why does the drama always follow me?" Well, this is most likely because you allow it to.
I tend to stand back, and instead of participate in encouraging the negative, I spin it around and try to make whatever mess they're in, positive. I know many times when I do, people think I don't care or don't want to listen. That simply isn't the case. If you're like me, you already have so much on your plate, a family that comes first, the petty little things in life just don't matter. I take a step back and think, "is this something that is really worth the stress?" And it is okay to tell people that, we can still care about them. I don't push back completely, I encourage them to step back as well. This isn't about abandoning your friends and family, it is about offering them something much better, positive encouragement.

Encouragement is positive motivation intended to promote advancement. So if anything, encourage others and try to give them a glimpse into a life of less negativity. Those resentments they hold or any type of negative thoughts or actions should not be affecting you every day. If it is, then you need to step back. It does not make you less of a friend or caring person.
Move towards encouraging people, thoughts and actions. Encouragement is all around you, you just need to be open enough to embrace it and share with others.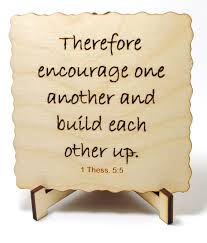 Categories: Faith