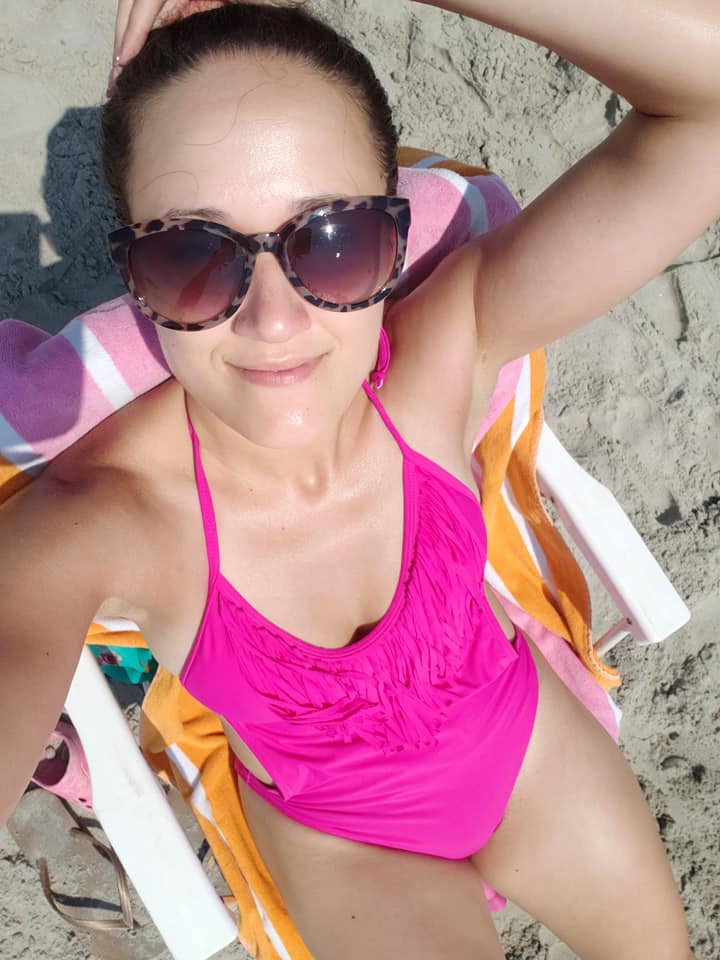 I love that picture. It was taken right after I asked my husband to please take the kids to the water so I could relax. After a blissful hour of them playing in the sand, while my husband sat with them, I got to read and work on my tan.
That would have never happened if I didn't open my mouth and ask. Not that my husband doesn't help out, but it is just one of those things that as moms we need to get better at. I can't tell you how many times my husband tells me, "let me know if you need help.", and I defensively respond, "why do I have to ask, just jump in?!". As the control freak that I am, I know half the time I turn down the help and just do it myself anyway. No one's fault but my own, and I am getting better at asking for help and time to myself and guess what? No guilt.
Why are we living in a world where moms feel guilty for taking the time for themselves?
I am a working mom who puts in a good 50 hours a week, sometimes 60, so relaxing isn't always easy given the fact that once I am off the work clock, I am then on the mommy and wife clock. It's not like moms purposely plan for no time, we just have a very limited amount of it. Unfortunately, none of us can add magic extra time in the day out of thin air. So what can we do to ensure we are squeezing in that me time?
Put it into your calendar…
If you've been wanting to go to the gym on a particular day, or meet friends for coffee or drinks, open your calendar and put it in! I find it harder to cancel once it is already time accounted for, it is sort of a trick for my mind and let's my family know mommy is busy. You're then forced to find childcare as a matter of urgency, you have an incentive to get organized and find a way to make it happen once the date has been arranged.
Rise and grind…
I am sure you've heard the old saying "early bird gets the worm", and in a busy moms life – this speaks so much truth. Getting your day started off early, and ensuring all tasks are completed ahead of time is helpful – at least it is for me when planning out my day.
Wouldn't you love a little extra free time? Especially while everyone is still in bed!
As I said above, when there doesn't feel like there are enough hours in the day, maybe waking up an hour earlier can help. See what you can get done before your family is up and you have to get on with the normal rush and push of a work day and doing the school run. This should free up some of your evenings so that you can spend some free time" doing what you want.
Make the most out of your free time…
Has anyone ever used their free time by catching up on housework? I get it – but if you know you've got a day off from work, or your kids are going to be out of the house for a few hours, ensure that you've made solid plans to enjoy yourself. If your idea of relaxation is to enjoy some blissful time immersing yourself in a warm bath, then do it! The laundry can wait.
Making time for you isn't imppossible – remember that in order to care for others, you must care for yourself.
When was the last time you made time for YOU? What did you do?
Categories: Working Mama Life