| | |
| --- | --- |
| Posted on July 10, 2020 at 2:55 PM | |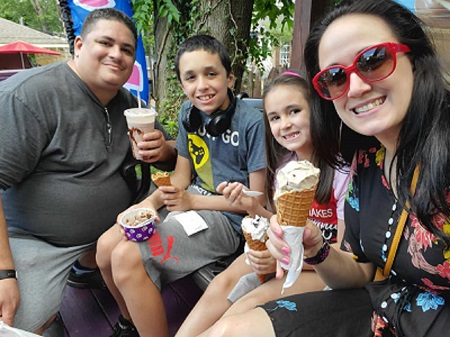 One of our many weekend adventures: we love exploring different towns... and stopping for ice cream!
We should all be working to live, not live to work...
When I was a full time graduate student, I worked afterhours and on weekends. I was also 27 years old with a full time job, a newborn baby, a six year old, and a deployed husband. I would use the week nights and weekends to catch up on work that got away from me during the day/week. I'd fire up the laptop during nap times, and sometimes in the evenings after bedtime and get cracking on work. My stress level wasn't any lower, and I didn't feel any more accomplished for getting those hours in during the weekend. I was grumpy, exhausted and my family wasn't getting the best of me. While I was a student, it seemed necessary, but as soon as I graduated the work-life balance shifted for the better.
"Working weekends to try and catch up on work was robbing me of valuable time with my family and my overall mental health."
I made the change...
I worked Monday-Friday nine to five, no more nights and no more weekends. If anyone requested to speak about anything business related on a weekend, I would nicely decline and invite them to schedule some time with me during the work week. What many don't realize (sorry men, it's mostly you guys), is that I am a working mom. I work full time just like they do; the only difference is that I don't come home to a wife who has cooked a meal, cleaned the house and has entertained/worked with kids. My days need balance and when I clock out of work I am staring at another enormous list of things to do, so limiting work is necessary to thrive as a human.
I see so many working moms hustling hard for their families, putting aside their mental health and overall well-being. It pains me to see and hear this because they aren't happy; they are stressed and are still complaining about the amount of work they have left to do, even with the extra hours!
I don't work on weekends not only because I don't need to work on weekends, but because I'm more productive by not working on weekends. Effectiveness is the result of a balanced process where all of the needs of the human are taken care of.
I exercise daily. I read, spend time with my husband, kids and friends. I love to cook for my family. We go out to eat every weekend, try a new cuisine, and explore parts of our state we have never seen. I love to garden (until I see a snake). I love to watch old movies, curl up on the couch with my favorite person (my hubby). I am still passionate and deeply engaged with my work. I'm more effective and more productive at work than I have ever been, and I'm able to empower and encourage others.
People need time to reset, recharge and catch up on things. If you want to make that change so you can enjoy the weekend and decompress, here are 5 things that are a vital part of my life:
1. Change your thinking. Focusing on negative thoughts like "I'm so busy" and "the weekend is too short" contributes to feeling overwhelmed and prevents you from enjoying your weekend. Instead, try to change your thinking to "I can only do so much in a day, so I'll accomplish what's reasonable today while making sure I make time to relax."
2. Find the balance in your life. Ask yourself if work is crowding out other major parts of your life. If so, you may be working compulsively. To help find the balance, start by making small and gradual changes. Instead of working a full day on the weekend, cut it down to an hour or two.
3. Change your routine. I love a good schedule and routine, but save it for the weekdays. Make weekends spontaneous and challenge yourself with new physical activity, or take a day trip somewhere you have always wanted to go. Sometimes relaxing at home is good for the mind and body, so if you feel like doing nothing, that's fine too!
4. Give electronics the weekend off. Give your computer and cellphone a rest on the weekends. Being constantly connected can keep you preoccupied with others and drain your mental energy when you should be recharging.
5. Don't oversleep. It may be tempting to catch up on some much needed sleep (sleep is so important to recharge), but oversleeping will rob you of precious time. If you sleep too much on weekends, it will disrupt your sleep schedule for the workweek. Get to bed at a decent time, your body needs it! If you get tired mid-day, power-naps make for a perfect weekend treat!
How are you balancing work and life?
Categories: Working Mama Life, Working from Home